Stott Pilates Reformers from Merrithew
For more than three decades, Ontario-based Merrithew has been innovating and advancing inside the burgeoning Pilates industry. They've trained and certified an impressively long list of instructors in their patented Stott Pilates methodology, which the company's co-founder, Moira Stott, invented and perfected.

Over the years, they've added even more depth and texture to their Pilates educational programs. In addition to offering workshops and coursework in Stott Pilates, they also provide specialized instruction in several other trademarked Pilates systems, including Zen-Ga, Total Barre, CORE, Halo Training, and Fascial Movement.
Merrithew has also channeled their spirit of innovation into equipment design and manufacture. Fitness studios, trainers and home enthusiasts who purchase Merrithew reformers will enjoy access to some of the best-reviewed Pilates equipment available in North America.
What Makes Stott Pilates Reformers Unique?
Merrithew has been a pioneer in Pilates science. Their fitness professionals and skilled engineers apply time-tested scientific principles and the latest research findings to design superior-quality exercise equipment, suitable for near universal use.
STOTT PILATES Reformers have a well-earned reputation for excellence. They can be found in professional sports teams' training facilities, fitness clubs, hotels, spas and other exercise facilities in Canada and the United States.
The distinctive features of STOTT PILATE Reformers include its:
Patented retractable rope system. This system allows for precise and exact rope adjustments on the fly, eliminating the need for manual adjustments.
High–precision spring package. Merrithew technology provides maximum extension, unlimited fluidity of movement and a full range of precisely calibrated resistance levels.
High-traction Reformer feet. Made from silicon rubber and PVC, they keep Merrithew reformers firmly grounded on all types of flooring.
Wooden standing platform. Study construction and a nonskid surface assure stability and safety for all users.
Detachable padded shoulder rests. These easy-to-remove shoulder rests feature extra padding for supreme comfort.
High-comfort footbar. This expertly-designed footbar has four settings and thick foam covering that reduces foot and hand compression, guaranteeing comfort during all exercise routines.
Neoprene spring sleeves. Users enjoy a smooth, noise-free spring extension when exercising on a STOTT PILATES reformer.
Quick-set pulley posts. Multiple settings are available for easy and exact adjustments of pulley heights and angles.
Easy roll wheels. These customized wheels provide smooth and fast repositioning, with durable performance and a long lifespan.
Customer choice of upholstery colors. Merrithew reformers come in 10 standard colors, but offer an additional 75 customized shades to satisfy the preferences of even the most finicky customer.
As this list reveals, Merrithew designers pay close attention to the details. Their goal is to produce refined and functional reformers that offer the ultimate in comfort, safety, versatility and efficiency, for fitness professionals and home users alike.
The Merrithew Family Story
Moira Stott was a professional ballet dancer in the 1980s, until she was forced to retire because of injuries. Seeking ways to stay fit and active, she began to practice Pilates. She eventually developed her own unique style of Pilates, which emphasized the importance of maintaining a neutral spine (or good posture) during exercise performance.
From Moira's innovative work, the Stott Pilates system was born. Moira Stott Merrithew and her husband, Lindsay Merrithew, opened their own Pilates studio in Toronto in 1988, believing (correctly, as it turned out) that their methodology could revolutionize Pilates practice.
Conceived as a vertically integrated enterprise, Merrithew branched out into equipment manufacturing in 1996. The next year, they opened their own education and training division, to train and certify instructors in Stott Pilates techniques.
Between 2000 and 2004, Merrithew was recognized as one of Canada's fastest-growing companies by PROFIT magazine. Their business—and influence in the Pilates industry—has continued to expand, and Merrithew today is one of the most successful and widely acclaimed Pilates equipment manufacturers in North America.
Merrithew Pilates Reformers for Home, Fitness Clubs and Rehab Centers
Merrithew Pilates reformers are coveted by exercise enthusiasts and certified trainers alike for their sleek, streamlined design, fine craftsmanship and sturdy durability.
The company manufactures and sells reformers in three categories: At Home, Professional and Rehab.  In total, Merrithew's product line features eight different reformers, which are available individually or in accessory-laden bundles.
At Home SPX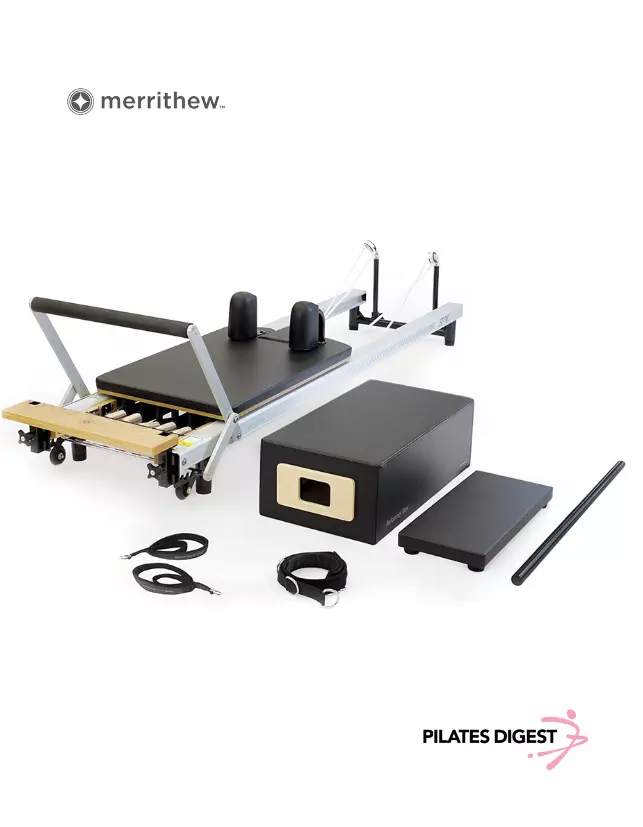 The At Home SPX Reformers is Merrithew's most economical option for home use. The At Home SPX includes Merrithew's patented rolling carriage and high-performance tension springs, which provide a flexible platform for diverse movements and a vigorous full-body workout. This lightweight (115 lbs/52 kg), space-conserving reformer is sturdy enough to handle continuous, high-intensity exercise, delivering a superior studio-quality workout in a comfortable home environment. A Cardio-Tramp Rebounder can be added to this reformer.
See our full review of the At Home SPX Pilates Reformer.
At Home Pro
For home studio use, the At Home Pro is a winner. Retailing at $4,249, this reformer is constructed with professional-grade features, including Merrithew's high-precision spring package that assures maximum extension and unmatched fluidity of movement. Its patented retractable rope system allows for precise and instantaneous rope adjustments while in action. The At Home Pro is built to accommodate an added vertical frame, and when combined with a mat converter the machine can be transformed into a prolific and versatile workout station. At 16 inches in height, the At Home Pro is easy to mount and dismount for anyone with mobility issues.
SPX Max
The SPX Max is Merrithew's entry-level offering in its Professional Reformer line. Weighing in at a svelte 128 lbs (58 kg), this compact, stackable machine is ideal for home studios or for other locations where space is limited. Despite its relatively low price tag ($2,999), this Stott Pilates reformer possesses abundant commercial-grade features, offering sturdiness and sleekness of design in one impressive package. Built low to the ground for safe and convenient use, the SPX is an excellent choice for those interested in combining vigorous home workouts with some commercial activity.
Check Prices for the SPX Max on eBay.
SPX Max Plus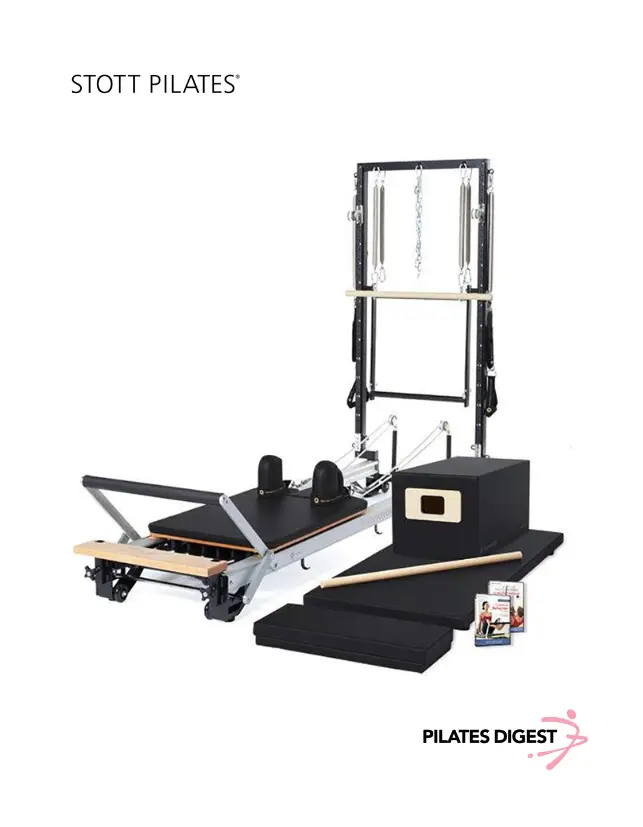 Regardless of fitness level or experience, the SPX Max Plus is the quintessential machine for the dedicated Pilates practitioner. Retailing at $5,399, the SPX Max Plus professional-grade reformer comes with vertical frame plus retractable rope system and travelling pulleys, allowing for almost unlimited diversification of exercises based on variations in resistance angles. Three-dimensional replications of daily movements are attainable on this machine, thanks to the impeccable design and engineering standards that have become synonymous with Merrithew and Stott Pilates reformers.
V2 Max
The V2 Max is one of Merrithew's premier reformers. It's built for heavy-duty use in fitness facilities, boutique studios, home sports training venues and other active and well-trafficked Pilates environments. With its 16-inch (40.6 cm) height and 24-inch (61 cm) width, the V2 Max offers a safe, convenient, quality Pilates experience for users of all sizes and mobility levels, including active seniors and individuals in rehab. Tipping the cost scale at a relatively modest $4,299, the V2 Max provides a professional-style workout for all users, with quick and easy transitions between exercises.
V2 Max Plus
Merrithew refers to this state-of-the art machine as the "Cadillac" of their reformer lines. Retailing for $6,895, this machine offers a cornucopia of options for multitaskers: It can function as a standard reformer, raised mat platform or multi-planar biomechanical training tool, all in one workout. This high-end Merrithew Pilates reformer includes all the usual bells and whistles that make these machines so versatile and popular, including the patented retractable rope system and travelling pulleys on the vertical frame that allow for precise customization of resistance angles.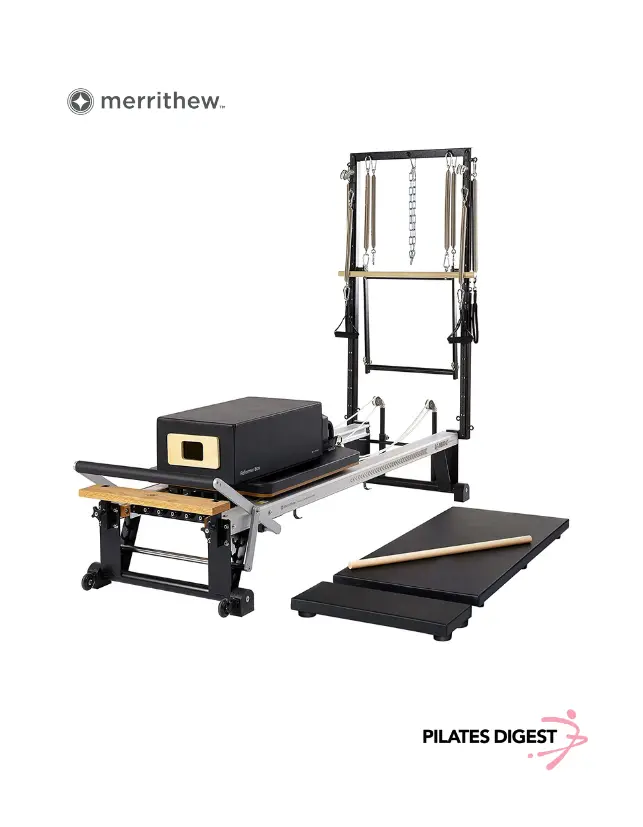 Rehab V2 Max
For physical therapists and the clinics that employ them, the Rehab V2 Max is an affordable option ($4,799 retail). This machine delivers outstanding results for users in rehabilitation, and it is also a suitable and effective choice for seniors and others with limited mobility. Raised to a user-friendly 22.5-inch (57.2 cm) platform height, this Stott Pilates reformer features a high-precision spring package that facilitates a wide range of resistance levels and angles. This makes it compatible with all types of Pilates routines for clients in various stages of recovery.
Rehab V2 Max Plus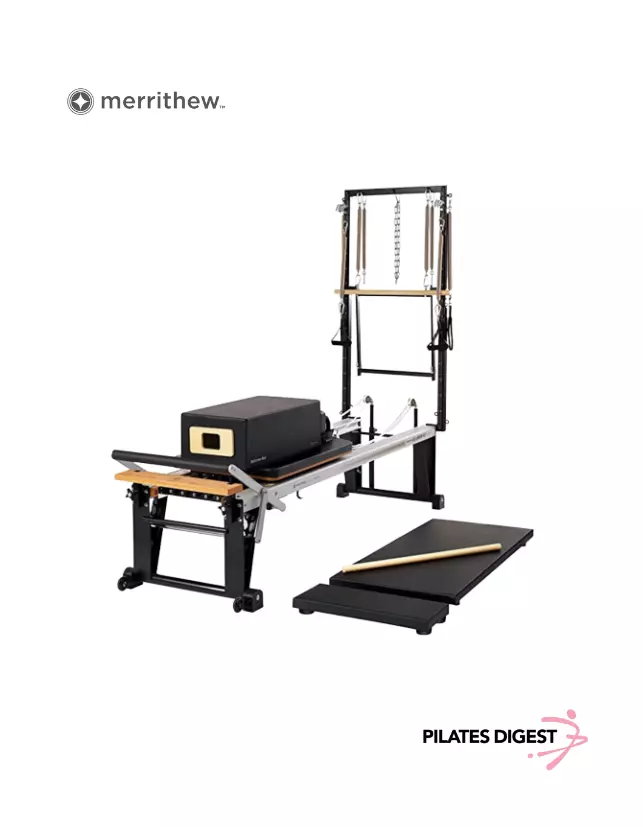 Clinical facilities looking for the highest-quality equipment for their rehabbing clients will find what they're looking for in the Merrithew Rehab V2 Max Plus. For a cool investment of $7,299, the V2 Max offers a complete package of precisely engineered Pilates-enabling features. It adds even more flexibility and versatility by incorporating a vertical frame with attached travelling pulleys for customized resistance angle selection. At 22.5 inches (57.2 cm) in height and 24 inches (61 cm) in width, the Rehab V2 Max Plus reformer provides access to mobility-challenged users regardless of their medical condition. Firmly grounded on any surface at 226.5 lbs (102.7 kg), the Rehab V2 Max offers rock-solid sturdiness and durable performance.
Merrithew Pilates Reformer Bundles
All Stott Pilates reformers can be purchased in bundles. In addition to the reformer of their choice, customers can also purchase additional items like the Merrithew reformer box with foot straps, a padded platform extender, a maple roll-up pole, the four-inch (10 cm) Merrithew reformer tall box or the company's unique high-precision 6-setting gearbar.
A Merrithew bundle generally costs between $200 and $300 more than an individual machine. But bundles include valuable supplementary items that would cost between $500 and $900 if purchased separately.