Magic Circles: The Best Pilates Rings of 2022
Unlike many other pieces of modern Pilates equipment, the magic circle is a Pilates tool built by Joseph Pilates, the founder himself, so that practitioners can find their center. Also known as exercise ring, fitness circle, fitness ring, and Pilates ring, the magic circle Pilates has been a popular prop for home or studio usage to improve your overall Pilates workout experience.
Below we will break down how one can incorporate Pilates rings in their workout, how the magic circle Pilates can be beneficial to you, and the top-selling Pilates rings on Amazon.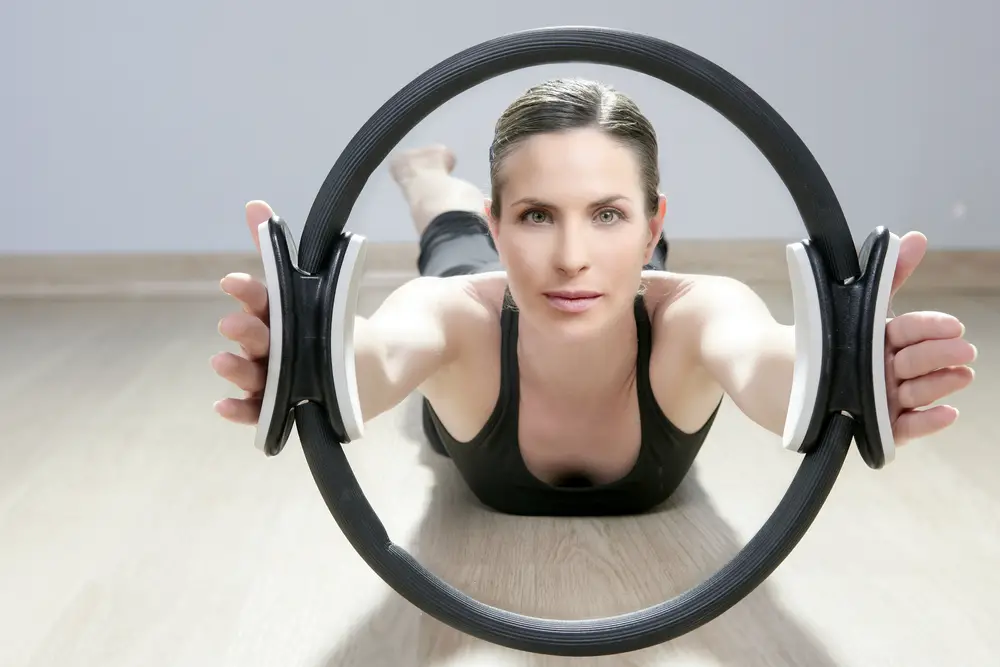 What is a Pilates Magic Circle?
Pilates rings or magic circle Pilates are tension-packed, lightweight, and small rings that enhance your workout experience. Usually available as a stretchable rubber circle with an average of 14-inch diameter. There are large or small sizes available as per your fitness needs. Apart from providing grip to your hands, these rings can increase the range of resistance exercises when used for thighs. These have been a commonly used add-on to Pilates fitness equipment.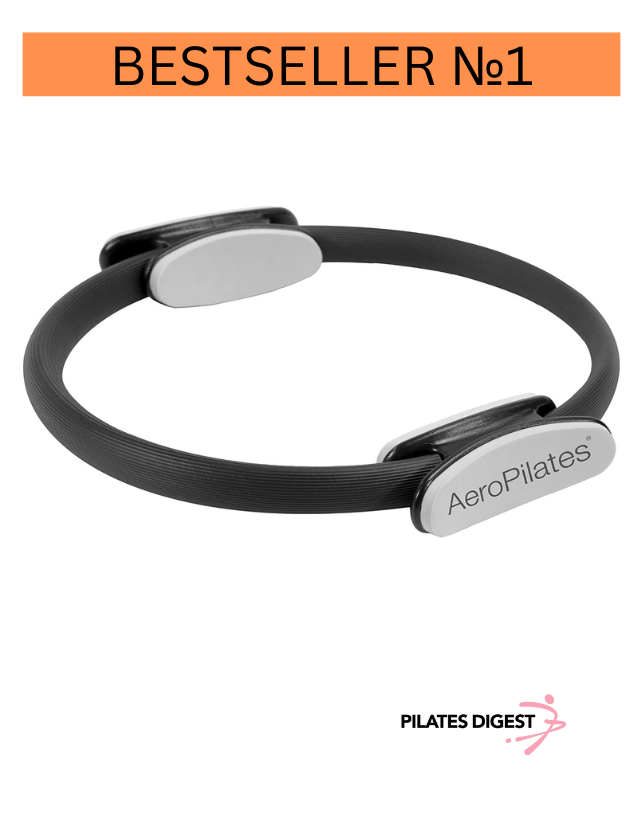 The magic circle is built of flexible sprung steel inside and comes covered with an outer coating of flexible plastic. Flexibility present in the ring allows users to benefit from the resistance it offers.
Benefits of Pilates Magic Circle
Introducing Pilates rings in your workout routine brings several positive effects on your body. Since most Pilates exercises focus on body muscle toning, these rings also help tone muscles, including thigh muscles, chest muscles, and upper arms.
Moreover, when pushed between your thighs, the resistance also helps the abdomen and leg muscles. Or you can also strengthen your chest muscles by grabbing both the handles on the magic circle and pushing it inward.
Here are the benefits of using the Pilates ring magic circle in your workout routine.
Reduced or minimal risk of injury with low maximum resistance
Lightweight, easy-to-use at home
Helps building and toning muscles with any resistance workout using Magic Circle
Enhances upper body stability and overall balance
Small equipment, easy to carry while traveling and easy to store at home
You can pick from a wide range of options available in the market.
Top Rated Pilates Circles – Amazon best Selling
ProBody Pilates Ring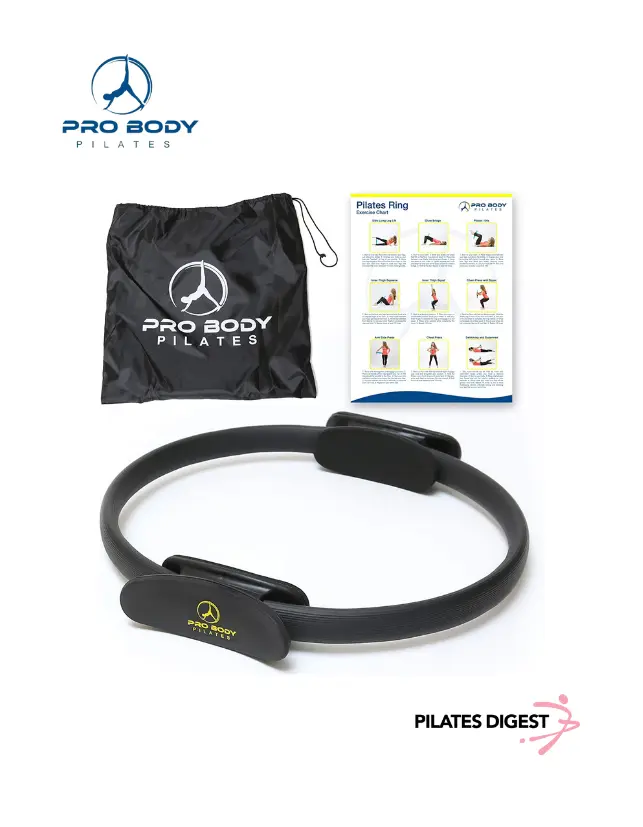 ProBody Pilates Ring is built specifically for toning stubborn areas on your outer and inner thighs, hips, upper arms, neck, and booty. This Pilates ring improves your muscle tone and fitness with regular practice. Irrespective of whether you are a beginner or professionally trained man or woman at the peak of your sporting career, these can benefit everyone. Apart from correcting posture, ProBody Pilates Ring can help you with muscular strength, endurance, body awareness, and improving areas that need shaping, such as butt or arms.
The highly portable ring comes with a carrying pouch to keep it with you on the go. Since the ring is not steel, it adds very little weight to the overall setup of this Pilates accessory.
Stott Pilates fitness circle pro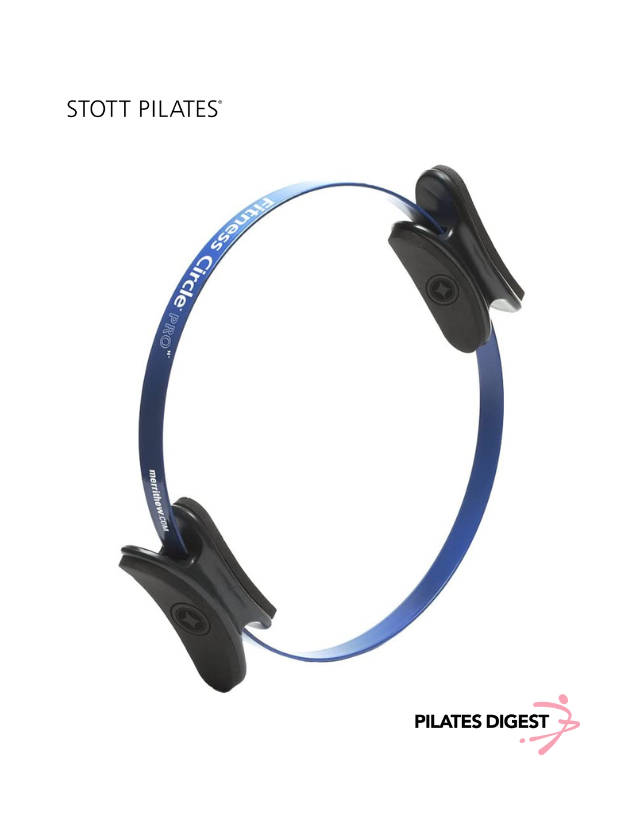 The STOTT Pilates Fitness Circle Pro- the incredible Pilates ring is here to improve your daily exercises. Due to its hard resistance, it is best suited for people who aren't beginners. Stott Circle Pro is made of sturdy steel and can withstand even the most rigorous activities. It comes in two sizes: 12-inch and 14-inch diameters to accommodate persons of various heights.
Apart from improving flexibility and thoracic stability, the Fitness Circle resistance ring also targets and tones the abs, legs, and arms. This ring is ideal for adding variety to your pilates at-home workout, group fitness, and personal training. The molded latex-free handles placed over the steel ring's three-band spring system provide extra comfort to the practitioner. Abduction and adduction movements are possible using the inner and outer grips.
The pilates ring is compact enough to carry in your baggage or carry-on bag. This travel-friendly pilate ring is an excellent piece of workout equipment that can be used at home, at the workplace, or when traveling. With appropriate resistance, the 360-degree grip provides a full-body exercise for toning, sculpting, and increasing the strength and flexibility of regions like core muscles, arms, stomach, chest, thighs, hips, hamstrings, and glutes.
Aeropilates Magic Circle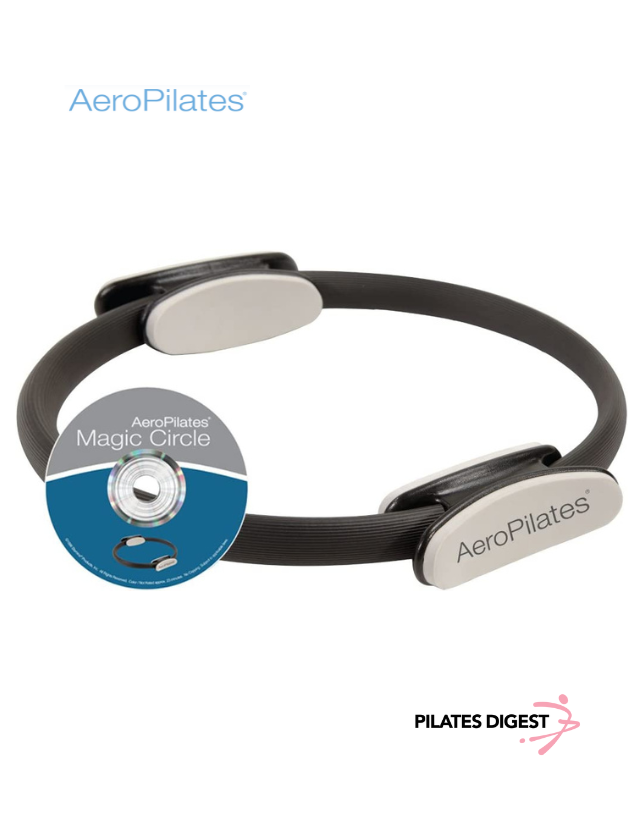 The Aeropilates Magic circle is an exercise accessory that enables you to exercise anywhere. The steel core ring with a diameter of 14.75 inches with its foam molded padded grip is designed to enhance the tone of areas such as the arm, chest, and inner and outer thighs. It can be beneficial without any other Pilates equipment to perform exercises on a mat or along with a reformer workout, making it a great workout tool. This Magic Circle also comes with a workout DVD.
The nonporous, molded padding holds out against moisture, with the molded grips comfortably fitting against the body. Faster and targeted toning is achieved by the resistance ring covered in soft rubber. Exercise on the go with this easy-to-use tool that also offers a 90-days warranty is nothing but true delight!
RitFit Pilates Ring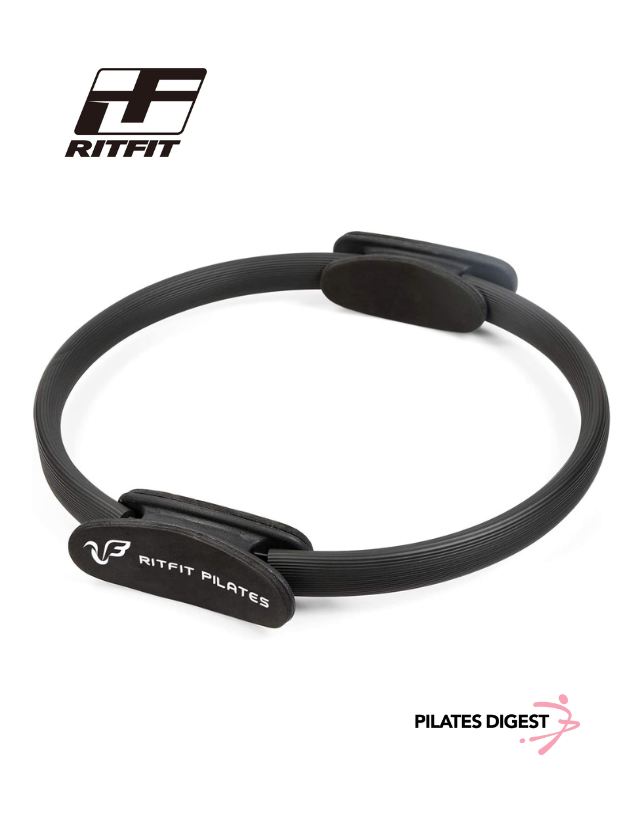 Built with durable fiberglass, the RitFit Pilates Ring comes with a claim of being unbreakable. With premium-quality material meant to last strenuous exercises, this ring gives you a great combination of durability and comfort. RitFit Pilates ring has a soft and cushioned rubber sleeved while handles are padded outside and inside to maintain and provide superior comfort.
Stott Pilates fitness circle lite
Fitness Circle Lite is a must-have for all Pilates lovers. Improve muscle strength and endurance by adding resistance to your training with this gem. Beginners, at-home users, as well as travelers, will benefit from this 75-pound workout equipment. Each instructor should own a Fitness Circle® Pro. This portable component helps maintain appropriate alignment and enhance proprioceptive awareness when used on the Mat, the Reformer, or other equipment. The Fitness Circle Lite is composed of spring steel and is designed to endure high-intensity studio use regularly. Add resistance to upper and lower-body workouts with this pilates ring. Inner and outer thighs, upper arms, and the chest are all difficult regions. Fitness Circle Lite helps you manage these effectively.
Chenlin Pilates Ring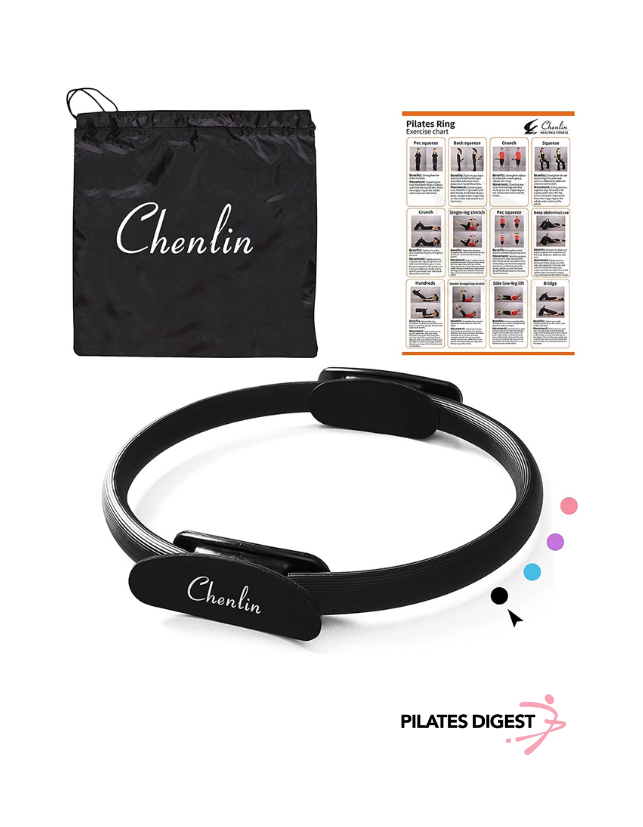 The high-quality, convenient Chenlin Pilates Ring is made up of a 14-inch non-slip glass fiber gasket that helps in increasing resistance and enhances the training impact. A comfortable experience is offered in use, and the stretching process as the magic circle has professional-grade, EVA high-density foam pads on both sides of the handle.
You can shape and strengthen abdominal muscles and back, thighs, and other muscles along with burning fat. Not only is the Chenlin Pilates Ring apt for your health, but it is also non-toxic and environmentally safe. Make your life easier as this magic ring relaxes your muscles and helps make a hard day's work easier. Shape, tone, and strengthen your body with this great workout ring.
Gaiam Pilates Ring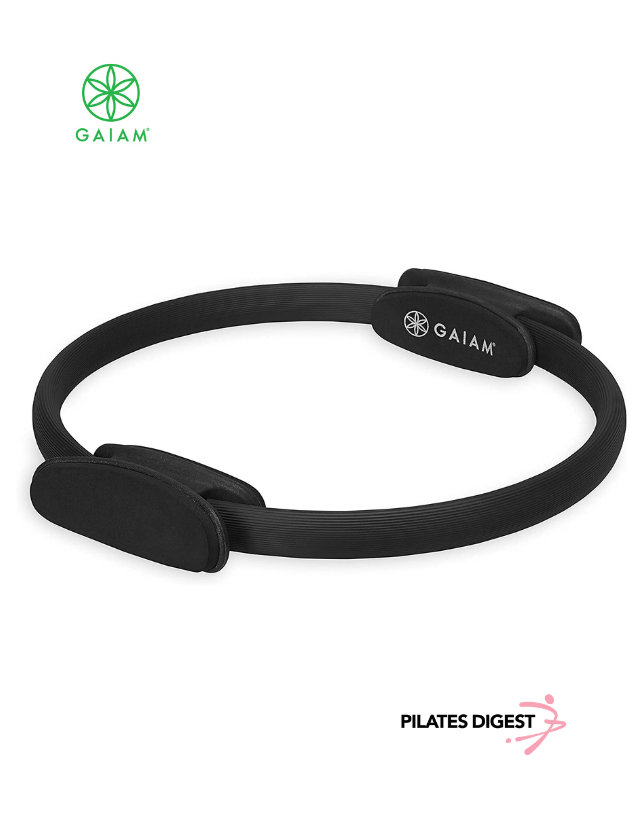 The lightweight Gaiam Pilates ring with its durable foam padded handles is a great exercise tool for toning and sculpting the arms, back, legs and core. This 15-inch fitness circle is perfect for general resistance training and Pilates. Its non-slip foam handles make sure the positioning is secured.
The non-slip foam handles manage to offer extra comfort when the ring is compressed upon pressure, thus making it an ideal workout tool. This flexible resistance exercise tool for strengthening the muscles is easy to use at home or in a studio. Get the right amount of resistance that you need with this lightweight, durable magic circle. You can make the most of your exercise, as it also comes with an exercise guide to help you get started.
MANTRA SPORTS Pilates Ring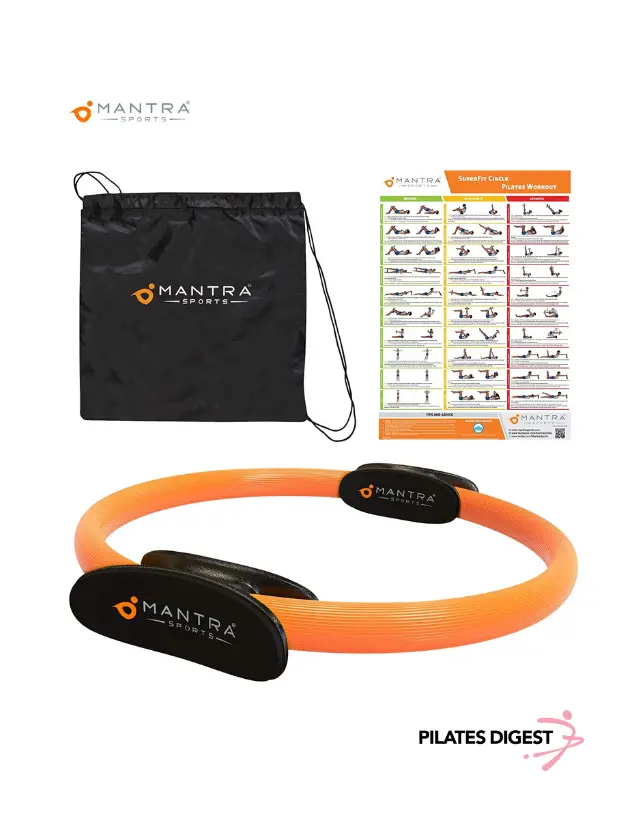 Professionals develop this studio strength 14-inch ring to help you take your Pilates anywhere anytime. The MANTRA SPORTS Pilates Ring is lightweight. It has a powerful performance, and total body conditioning can be accomplished easily through it. It gives maximum results with moderate resistance. This 14-inch diameter ring is 30% lighter than steel parts as it has premium fiberglass built.
The non-slip grip for balance and safety is offered by the outer and inner rings equipped with dual EVA foam pads. Even for pregnancy and physical therapy, this ring seems to have all the ideal features. Achieve strength, balance, and flexibility as this ring offers complete wellness at any age. Ultimate body workout and toning can now be easily within your reach by just using this one piece of equipment.
NAYOYA Pilates Ring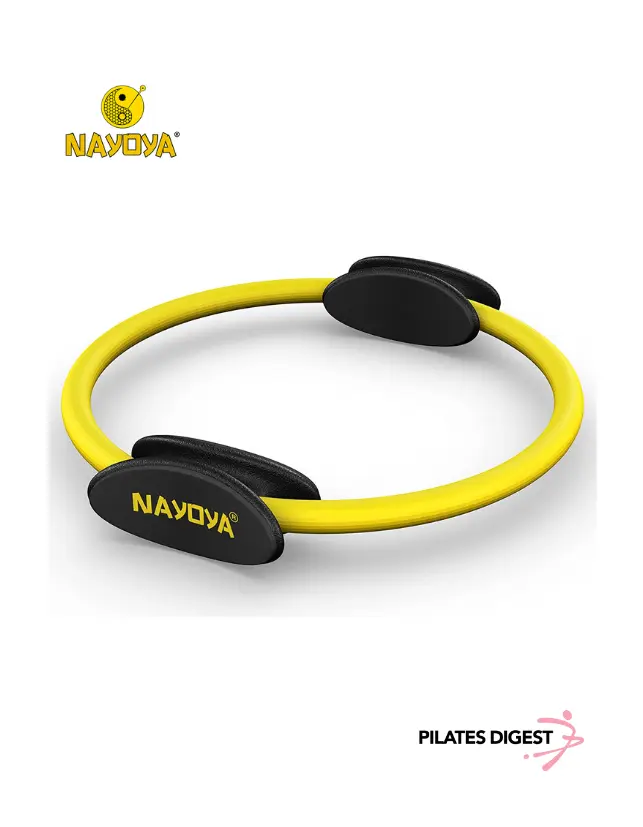 One of the best exercise equipment, especially for women, is the NAYOYA Pilates Ring. Among many other recommendable factors, it is the resistance it offers on the inner and outer thighs. This lightweight, portable fitness accessory with high-caliber fiberglass is an all-in-one exercise tool since it helps tone and shape the arm, chest, inner and outer thighs, and shoulder. This Pilates ring has rehabilitation and physical therapy benefits as it provides hip comfort.
A balanced and effective workout is offered as the two dual-sided foam padded handles maintain a non-slip grip during the exercise. Its optimal resistance provides:
Total body conditioning and strength.
Thus making it easier to tone your body.
Any place.
Any time.
THE SANOS RING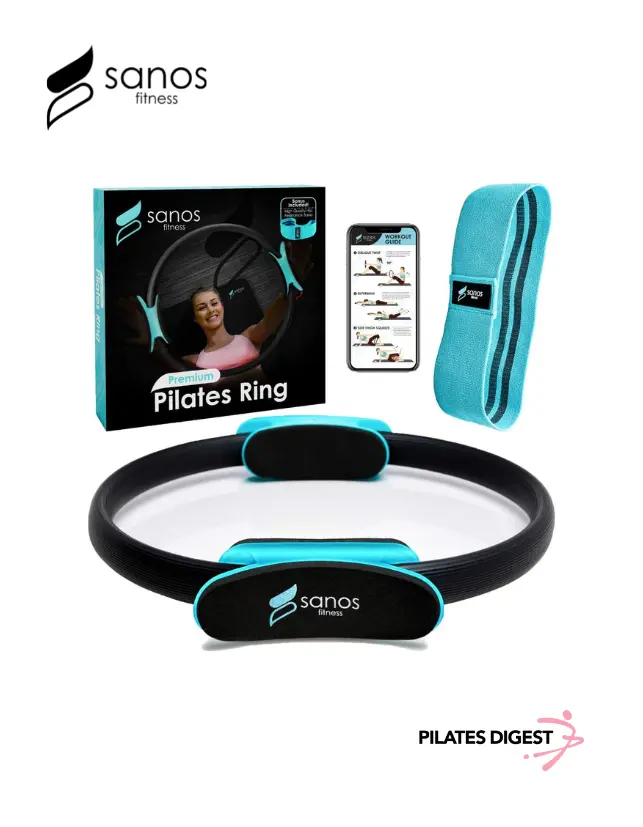 Fitness goals can be achieved faster with this perfect premium Pilates ring designed to meet every fitness need. The Sanos Ring will not crack or warp because its high-quality rubber outer sleeve comes with extremely durable fiberglass of premium grade. Every part of your body can be shaped and toned gently and effectively by using this portable and convenient ring that will maintain its form even after the most vigorous exercise.
You can shred off all that unwanted weight as the package includes not only the premium Pilates ring but also a workout plan, a high-caliber hip resistance band, and a surprise gift! Sculpt your dream body with this built-to-last Pilates ring.
URBNFit Pilates Ring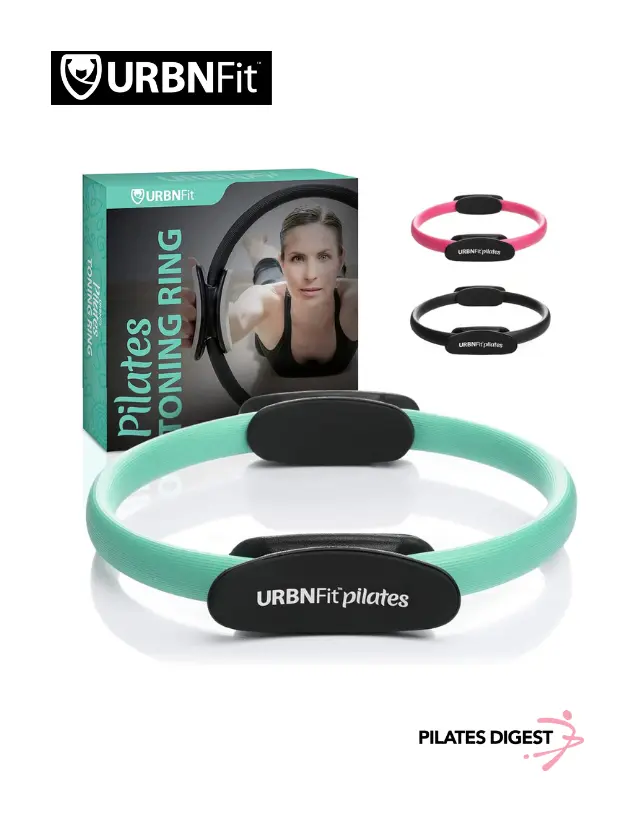 Are you looking to accomplish effective home workouts with professional gym quality? The URBNFit Pilates Ring is suitable for you as it offers full-body training no matter where you are! The ring comes with durable fiberglass that prevents breaking or cracking and has non-slip, foam-resistant inner and outer padded handles that allow balanced and effective workouts. Even after highly tiring workout sessions, the ring will get back to its shape. URBNFit Pilates ring is also effective in a low-impact exercise that helps post-surgery, pregnancy, or elderly care. Target every muscle, improve strength and flexibility, and build strength every day in a few swift movements using this compact, light, and easy move ring.
Trideer Yoga Pilates Ring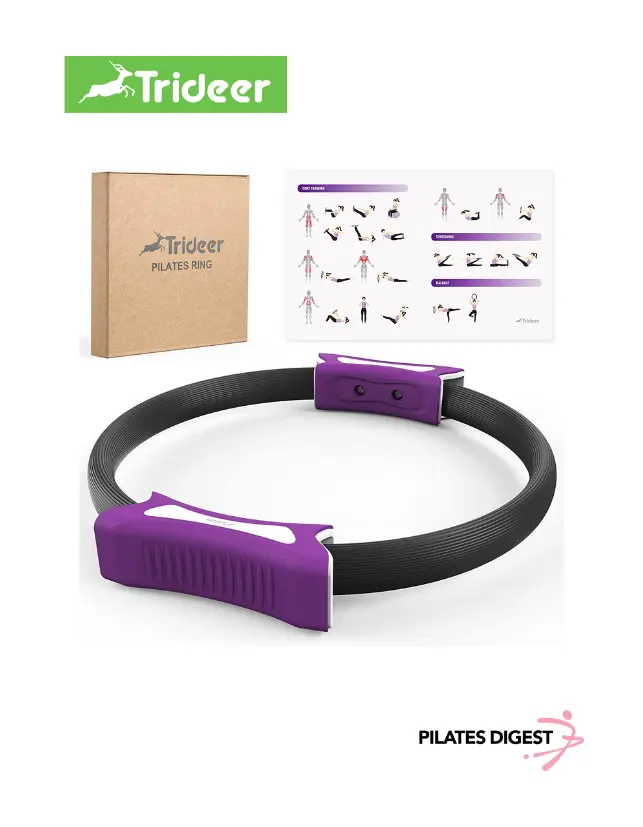 The Trideer Pilates Ring is a fantastic piece of training equipment and one of the best yoga supplies in the market for women of all ages. Overall, this versatile tool is one of the most valuable pieces of yoga gear. All Types of Pilates exercises can be performed using this mat. Inner and outer thighs, upper arms, hips, and neck can all be toned utilizing the product right.
This pilates ring is lightweight, portable, and easy to store. The fiberglass ring provides good resistance compared to metal products, which is a beneficial feature for novices. For individuals of any age, this is an excellent addition to their training gear. Exercises for pregnant women, physical rehabilitation, and the elderly – all this and more can be done with the help of this tool. If you face discomfort around your knees, neck, or shoulder, this product, with its host of amazing features, can help you a lot.
Yogalo Pilates Ring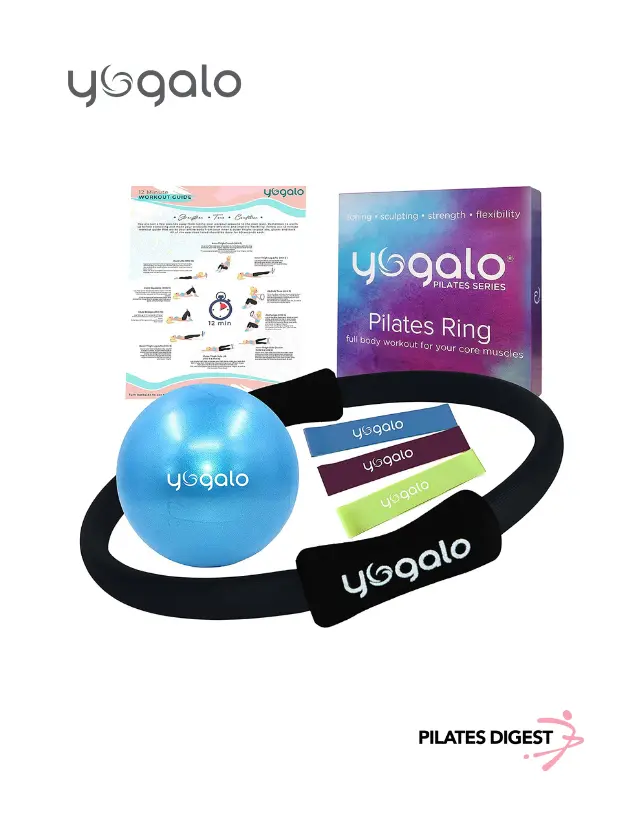 The Yogalo Pilates Series Ring is an excellent solution if you find a conventional Pilates ring uncomfortable. The outside of this ring is ultra-plush, while the interior is made of sturdy fiberglass. Perform exercises at home or gym with ease with this versatile and truly durable piece of equipment. Incorporate these rings in your workout routine to strengthen the arms, chest, legs, back, abs, and core of the body.
This ring features two 360-degree hand grips with slip-resistant foam. Unlike many other Pilates rings found in the market that have handles that fan outward. The ring includes a pouch for convenient transportation purposes. What's more? The ultra-lightweight material brought to use is resilient. This 14-inch ring is both light and comes under a very affordable price range.
Ninonly Pilates Ring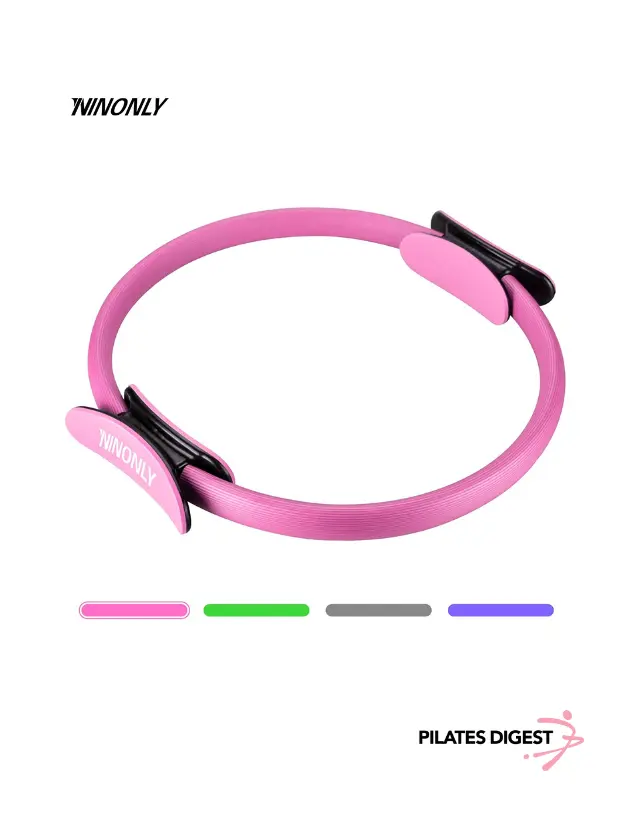 The ring is made of sturdy fiberglass with a rubber outer sleeve that resists bending with time. The fitness ring will keep its shape and reassemble into a circle even after the most intense activities. In addition to Pilates and posture improvement, this yoga circle strengthens the core and increases flexibility, encouraging practitioners to be more aware of their movements and develop healthy lifestyle choices.
Dux Ridge Pilates Ring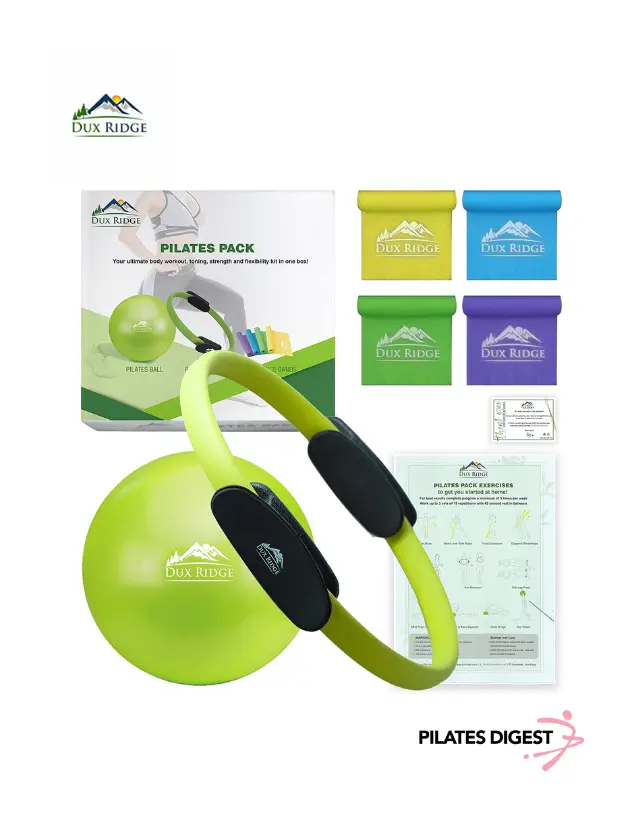 This 12-inch pilates ring is fantastic in itself but also comes with loads of great additional equipment to make your home exercise more challenging. The ring is both flexible and sturdy, with ergonomically cushioned grips on both sides. To train your upper abs, hold it between your hands, and to tighten your lower abs, hold it between your legs. Fitness enthusiasts can use this ring for several core-strengthening activities, and the four resistance bands can help you stretch once you've completed your workout.
The Dux Ridge Pilates ring features high-quality materials for maximum durability while toning and shaping your body. It is lightweight, portable, and easy to use, which makes this a great travel companion. The ring gives you the freedom to exercise wherever you choose.
Chenlin 5 Pcs Pilates Ring Set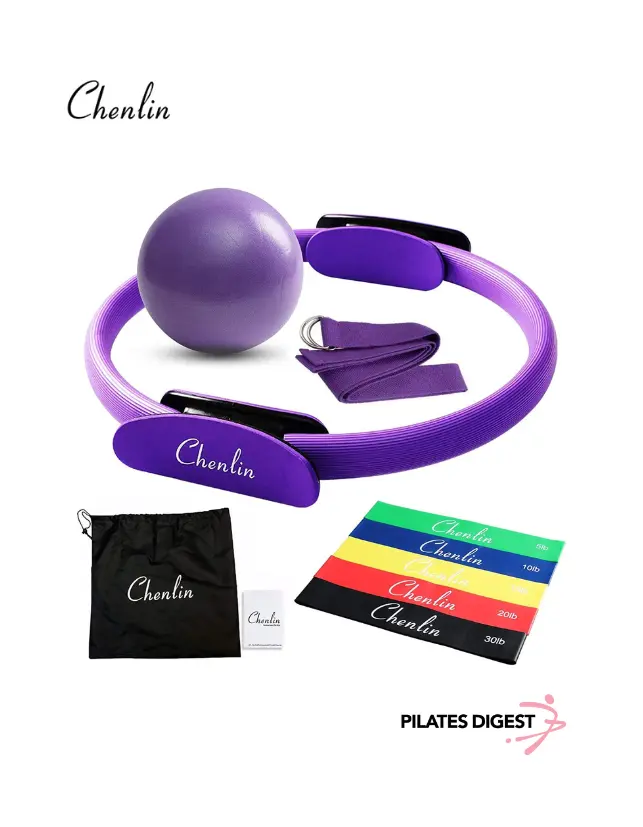 Using your equipment to exercise at home or in the gym has never been easy. This Pilates ring and ball set with resistance bands make it possible. This equipment set is suitable for men and women and includes everything you need for a full-body exercise. Using the Chenlin Pilates ring regularly at home or the gym enhances your muscle tone and fitness. Beginners or athletes in high training conditions can benefit from this tool. Toning and shaping with Pilates, Yoga, or other fitness activities are some of the purposes for which the Chenlin Pilates Mini Exercise Ball is designed. In addition to providing extra support and flexibility to stretching and yoga exercises, the Chenin yoga strap may also be used as a therapeutic tool for working out. Practice at home is made easy with the three resistance bands included in our Pilates equipment package. Light, medium, and high resistance levels are included in your workout bundle, making it highly efficient.
HYPELETICS Pilates Ring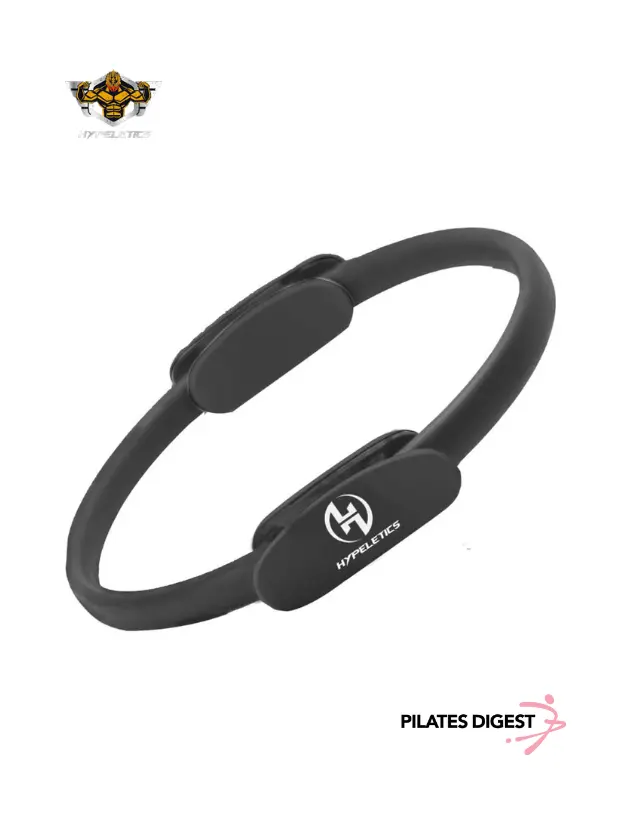 Top-quality fiberglass is used to construct the Hypeletics Pilates fitness circle, which does not permanently bend or break. In addition, the twin pads positioned on either side of the equipment provide for a more balanced, pleasant workout. The Pilates magic circle engages individual muscles as you move through your pilates program. Muscles are toned and sculpted as the exercises become more strenuous. With this fantastic piece of home workout equipment, there's no need to spend a lot of money on gym or home-fitness gadgets. Those who desire to gain strength, enhance stamina and balance, boost body awareness, and correct poor posture may find this lightweight, sturdy piece of Pilates equipment very useful. You can target hips, abs, inner and outer thighs, or any other body part needing a shape-up with this portable training equipment.
YXILEE 6Pcs Pilates Ring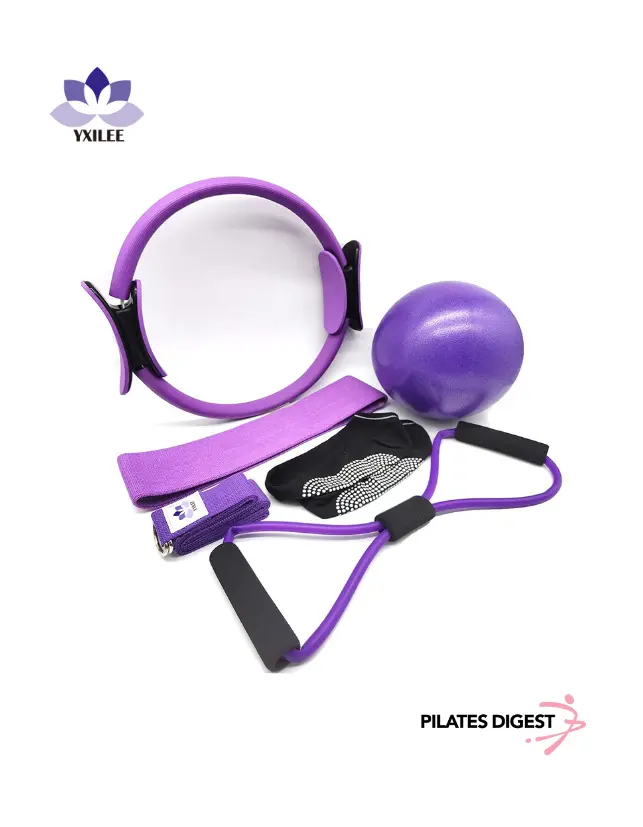 In Yoga, Pilates, stretching exercises, or other training programs, this six-piece ring kit will make a lot of sense. Women can also use it after pregnancy and childbirth to stay in shape. Along with the Pilates Ring, this set also comes with a Pilates ball, Yoga Strap 72 inches in length, 8-shape Resistance Band, Hip Fabric Resistance Band, and a pair of non-slipping Pilates socks. When used in a combined manner, the package is exceptionally effective at firming up, boosting coordination, stamina, and flexibility, and reducing body fat. Our Pilate 6 kit is superior to other products in terms of quality and comprehensiveness. It has a non-slip surface pilate ring handle design that simplifies the handle while exercising, ensuring a comfortable and safe session. The ring employs silicone non-slip bottom grip technology to make Pilates socks work out safer, making your workout session easier and safer.