Article Reviews
Tracey Mallett's 3 in 1 Pregnancy System DVD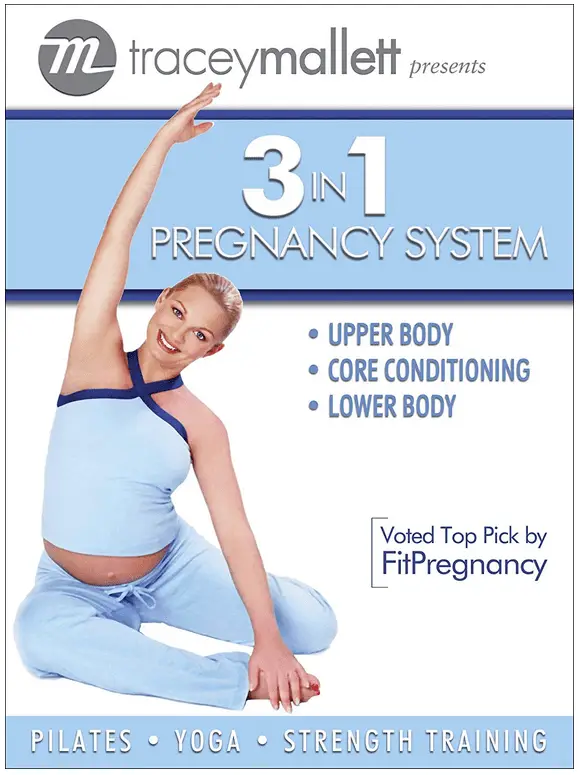 Tracey Mallett's 3 in 1 Pregnancy System DVD
Tracey Mallett's 3 in 1 Pregnancy System DVD is a nice combination of Pilates, Yoga, Sculpting and Stretching. It is a pleasant video to watch because of the mood, music and Tracey's personality. She is in her third trimester and seems to be feeling great. She gives great modifications for the exercises while her partner does the exercises without the modifications. She makes great use of props including pillows, towels, a chair and weights.
The program is very balanced and is divided into four sections with Upper Body, Core Conditioning, Lower Body and Stretching. Compared to other DVD's, this program is different combining disciplines that are essential to feeling good regardless of if you are pregnant. She uses her husband for partner stretching in the last segment, which is a great way to involve him in the pregnancy.
After being pregnant myself, I can see where these moves feel good, help with your posture and keep you strong. She reminds the viewers of breathing and her cueing is helpful for the new exerciser. I would highly recommend this DVD, just remember to always first discuss your exercise program with your doctor before, after and during your pregnancy.
Tracey has an extensive background in dance and Pilates. She is a certified personal trainer and fitness instructor through the Aerobics and Fitness Association of American (AFAA) and the American Council on Exercise (ACE). She is a Master Pilates Instructor for Rael Isacowitz (Body Arts and Science) and is certified through the Pilates Physical Mind Institute in Santa Fe. She is a member of IDEA and the Pilates Method Alliance. In addition, Tracey is a certified Gyrotonic instructor.
Tracey Mallett's 3 in 1 Pregnancy System DVD can be purchased at Amazon.com and you can find more information at www.traceymallett.com.
Related Posts