Article Reviews
Pilates DVD Jennifer Kries Master Trainer Series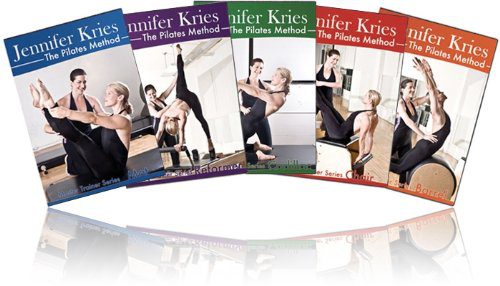 Pilates DVD – Jennifer Kries Master Trainer Series
This collection of Pilates DVDs is the work of well known presenter and teacher trainer, Jennifer Kries. The series offers 5 DVDs; 4 of which address the different Pilates apparatus (Reformer, Chair, Cadillac, and Ladder Barrel) and the fifth which addresses Pilates mat work.
Kries is a second generation instructor and teacher trainer and has studied with Romana Kryzanowska, Ron Fletcher and Eve Gentry. She has vast experience in dance, yoga and exercise and she is the owner/founder of the Hot Body Cool Mind studio in the Philadelphia area. Kries is a certified Iyengar Yoga instructor and has studied other yoga disciplines as well. She has several other DVD titles as well some of which blend yoga, Pilates and other mind-body disciplines such as Chi Gong.
Kries has a very relaxed and confident teaching style. She clearly knows the material and presents viewers excellent cueing techniques. Kries offers succinct cueing options while also offering excellent tactile cues for instructors to use in guiding clients. The model for the series is Kim Reis who flawlessly demonstrates the exercises.
The Master Trainer Series is a great resource for new instructors but can benefit veteran instructors as well. Each of the DVDs addresses beginner, intermediate and advanced exercises. The Master Trainer Series DVDs can be purchased individually for $19.95 or $39.90 as a collection. The DVDs are an excellent resource for Studios to keep on hand in their libraries.