Article Reviews
STOTT PILATES: Pilates on the Green Level 1 DVD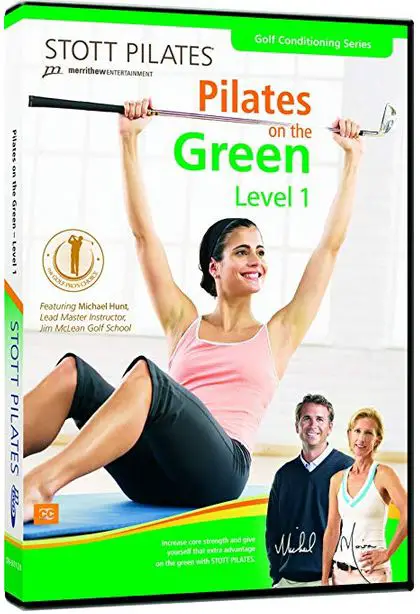 STOTT PILATES ®: Pilates on the Green Level 1 DVD
DVD by STOTT PILATES ® is one of the best golf-related Pilates videos currently on the market. Moira Merrithew brought in Michael Hunt, a golf instructor at the well renowned Jim McLean Golf School to help with a pre-round golf-specific warm-up and stretch segment as well as some golf drills that will help in muscular re-education for the golf swing.
The actual workout segment is 36 minutes long. Ms. Merrithew takes two students (Natalia and Chris) through the workout, giving each of them modifications as necessary. They make excellent use of the golf club during the session so that avid golfers will feel as though they are making an actual impact on their golf game. Traditional exercises are altered slightly so that a golf club can be used but the essence of the exercises remains. Merrithew talks about the golf swing during the segment and ties the importance of the exercises to specifics about the swing. She is very clear in saying that she is not a golf instructor nor is she trying to be such. She understands the movement of the exercises and how they can affect movements in the golf swing.
The DVD is shot in a beautiful studio-type setting. There are several different camera angles which give the viewer a good look at the exercises so they are easy to understand. The pace of the exercises is relaxed; it doesn't move too slow or too fast and there is sufficient time to move from one exercise to another without feeling rushed.This particular DVD is rated by STOTT as a level 2 (out of 5) for difficulty. The exercises don't seem particularly difficult but Merrithew does offer progressions and modifications to make them more or less difficult in case someone is new to Pilates and may be struggling.
It is a great DVD to introduce golfers to Pilates. STOTT PILATES ®: Pilates on the Green Level 1 DVD can be purchased online.