Article Reviews
10 Minute Solutions with Pilates on the Ball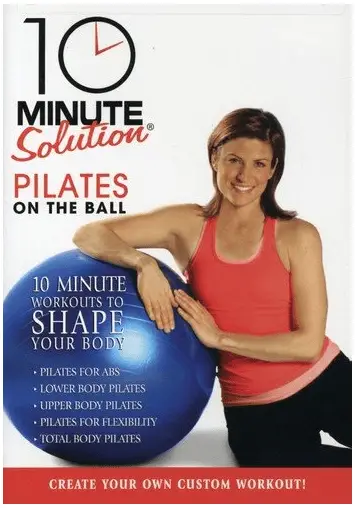 10 Minute Solutions with Pilates on the Ball
DVD. She speaks clearly, gives great cues and has great form. Her instruction is easy to watch and enjoyable to do. The 55 minute DVD is great for Pilates instructors and enthusiasts. I enjoyed doing the DVD with Lara and came away with many new ideas for myself and my clients. Buy now on Amazon.
There are five 10 minute routines that you can do alone or link together:
(1) Pilates for Abs
(2) Lower Body Pilates
(3) Upper Body Pilates
(4) Total Body Pilates
(5) Pilates for Flexibility.
Each 10 minute routine has 7-10 unique exercises with the ball that are based on the original Pilates method. I thought of many people who would enjoy this routine. If you don't already have a ball at home, this DVD is a good reason to purchase one. Some of the exercises are challenging for beginners, but you can work up to them. I would recommend a mat for the routines, because I was slipping during some of the side lying exercises on my carpet.
Lara is a PMA Gold Certified Instructor and owns Mercury Fitness Pilates Center in San Francisco, California. There is a whole series of 10 Minute Solutions from Starz Home Entertainment and I can't wait to check out another one. The 10 Minute Solution: Pilates on the Ball can be purchased at Amazon.com.
Related Posts